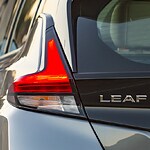 Owning a Nissan LEAF will give you access to a popular EV that can go for 226 miles after just a single charge-up. Moreover, it will save you tons of money at the pump while simultaneously lowering your carbon footprint. Sebring, FL locals can do something good for the natural environment while also doing something good for themselves. At Alan Jay Nissan, we're eager to help you explore the many impressive benefits that the LEAF is offering.
Without an internal combustion engine, the Nissan LEAF doesn't produce much noise at all when in operation. This makes it easier for drivers and their passengers to fully appreciate any in-car entertainment that they're listening to. It also means that the Nissan LEAF is capable of getting you from place to place without producing any greenhouse gas emissions at all.
In addition to letting you bypass the fueling station, owning a Nissan LEAF also eliminates the need for top-offs, oil changes, and many other forms of routine maintenance. In fact, this car doesn't even have any timing belts or hoses that will need to be periodically changed out. Experience the Nissan LEAF for yourself by visiting Alan Jay Nissan today.