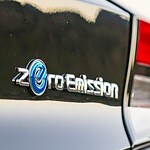 If you're looking for a popular, efficient, and high-performing vehicle, then the Nissan LEAF is definitely worth considering. This all-electric car is fast-gaining interest from eco-conscious consumers everywhere. Surprisingly, with its minimal maintenance requirements, it's also attracting attention from busy professionals. Alan Jay Nissan is excited to share information on two benefits of this car that make it the ideal choice for anyone who's looking for a smooth, hassle-free ride and plenty of modern convenience.
The Nissan LEAF is a zero-emissions car. By the very nature of its design, this EV is totally exempt from emissions testing. It also lacks an internal combustion engine. As such, you'll never have to pay for oil changes, or have any hoses or timing belts swapped out. LEAF drivers don't have to invest much time into ongoing car maintenance at all.
You won't have to take time out of your day to wait in line at the gas station. In fact, as a LEAF driver, you'll never have to visit the fuel pump or worry about gas prices again. To test drive the Nissan LEAF and know more about the many benefits it provides, visit us at Alan Jay Nissan today.