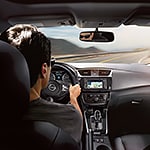 The Nissan Sentra has been a perennial favorite of midsize sedan drivers in Sebring, FL and across the United States for decades, and it's time that you discovered or rediscovered this popular vehicle line. Our team is pleased to have the current year's Sentra models in stock right now, and we invite you to stop by for a road test.
When you choose to drive a Sentra, you get to pick from a diverse selection of extras to personalize and upgrade your vehicle. Cargo bins, storage nets and a plush mat will make the trunk more user-friendly, and a cutting-edge impact sensing device can add an extra layer of protection when you're parking or backing up.
Floor mats that are designed to stay in place will enhance and protect the Sentra's passenger cabin while a spoiler and chrome license plate frame are intended to serve as elegant embellishments to the exterior.